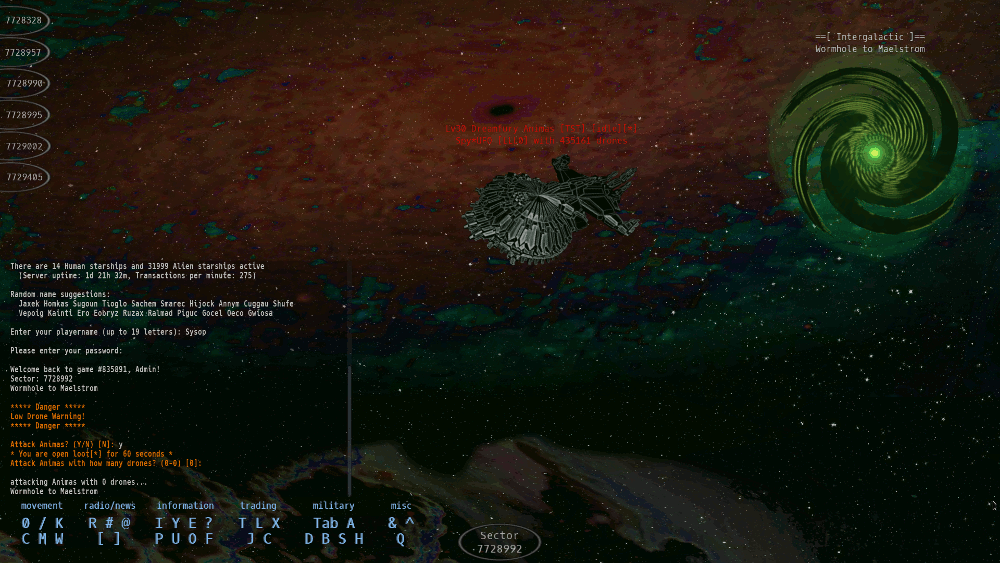 The Good and Bad of Starship Traders MMO
As for The Good, SSTMMO has:
unique gameplay that slowly emerges as you learn the game,
great music,
a minimalist GUI, and
a resource-based combat system. Kills are not free so you must choose your battles with a goal of benefiting from each fight.
The PVP system discourages killing innocent lowbies. You will be flagged temporarily as 'open loot'. In addition, your ship remains visible when you log off and stealth effects stop working for the duration of the flag. Further accumulation of negative honor can even flag you indefinitely. (Drones carried with your ship still automatically defend you if attacked while offline, just as online.)
With that said, You *can* play as an outlaw, if you're clever, courageous, choose your battles carefully, and hide well.
It has a great character name generator.
The SSTMMO universe also has a unique environment and structure.
...and then there's The Bad:
SSTMMO being a unique game means that you do not know how to play at all!
It has no pre-planned experience to train new players. Just hints and a few short tutorials on the basics.
It has no 'skill-based' combat. Combat is routine, mostly predictable, and, as Sun Tzu wrote, battles are won (or lost) before the combat even begins.
It has a minimalist GUI -- which is not always a good thing.
There are no visible characters in the game; Your ship *is* your avatar. (This is not purely bad, however, as some won't care and a few may even prefer it. -Ed. plug)
This is an MMO designed and developed by a solo developer. It is limited in the various ways that would involve high costs of either time or money. The game itself was designed from the beginning to fit within those constraints, but endless lavish art and voice acting, among other things, fall far outside those limits. (On the upside, you won't have to endure bad voice acting! -Ed. plug)
A true Sandbox; You can change, create, destroy, move, or guard anything.

Large galaxies to play and hide in, with an autopilot for navigation.

Combat consumes expendable resources; there are no free kills.

Player housing is secure, shareable, moveable, and in the open world.

Each of the three realms is unique.

SSTMMO is close to you! [Amsterdam (EU), New York (US), and Sydney (AU)]



__News__
New (required) clients again today, 2 June, 2023. Download a new one!
Planning and preparation continues for a Steam release this summer...



__Download Links__
(Tested on Raspberry Pi OS)
Why Starship Traders is different from other MMO's
SST MMO Lore: The Tale of the Lost Raven
Screenshots, slightly outdated
A short gameplay video
The game Reference
__Software Instructions__
The clients are self-contained programs that require no installation.
To run the Linux or the Raspberry Pi versions perform the following steps from a terminal window:

1) Uncompress either the Linux PC or Raspberry Pi program:
bunzip2 sstmmo.bz2
-or-
bunzip2 sstmmo.pi.bz2

2) Make your program executable:
chmod +x sstmmo
-or-
chmod +x sstmmo.pi

3) Run your version: You can now use your GUI view to click on the program -- or you can run it directly from the terminal as in the examples below:
./sstmmo
-or-
./sstmmo.pi

(Note that you may see a few debugging messages upon exit when running from a terminal window. These messages refer to items used internal to the client and you can safely ignore them. The messages are only useful for developers.)



__sha256 file hashes__
Linux: Fri Jun 2 10:17:57 EDT 2023
d17583e411f3ad7e5dc729b62571cbcc9ed5541a22710bde66c4ef75cae44086 sstmmo
25f51bb16a80851d3ac28340a05083cfd16caecaf97db18a796ab9747f123b26 sstmmo.bz2

Windows: Fri Jun 2 10:17:58 EDT 2023
3d1acf9f322a34ce9f821cf4909c03620a27b7e6d8be26f8a14a2b2ab2141811 sstmmo.exe
d9532bee037fa47c740a0e2578b574fe9d6d7eabdcb690304c6a4a268607795e sstmmo.exe.zip

Raspberry Pi 400: Fri Jun 2 10:17:58 EDT 2023
b655c79ea20038aaabc54ee627d253d626635a6912d3edadb92d24fd5198c751 sstmmo.pi
f7a6a32c4636fd09698e0eb839ce728cff3f896c53053b6cfabe900097d3a7d6 sstmmo.pi.bz2